---
| Home | About Us | Contact | Buy Shoes | Custom Order | Orthotics | Garments | Build Shoes |
---
CUSTOM ORDERS
We manufacture hand made custom work or casual shoes and boots in virtually any size. Styles are pictured in our Retail inventory section. If your size falls outside the size range listed in our retail inventory we can custom make the size for you in approximately 2 to 3 weeks manufacturing time. We can manufacture your shoes with special upper leather or sole materials to meet your special work needs. Boots and shoes can be manufactured with your pre-existing custom arch supports or with our custom arch supports built from your plaster foot casts. Normal production includes a 1/4" moldable plastizote cushion arch insole with leather covering. Our work shoes and boots are 100% leather uppers, linings and midsoles. We use no man made products except the moldable arch insole and outsole. Full leather soles are available upon request. Mismated sizing is available in all style.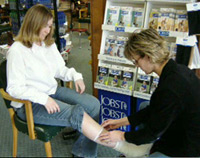 Production sizes from inventory are returnable in sellable condition. If we exchange sizes there is no additional charge. If items are returned for credit, credit will be issued for purchase price minus original shipping costs.
Custom manufactured shoes or boots are not returnable. (Sizes outside retail inventory size range) Therefore we suggest if you have questions on your size have your feet measured by a professional. Our size schedule adheres to the American Standard Last size grading scale.
Custom shoes and boots manufactured from positive cast of your feet on your own existing last are no problem. We reserve the right to reject an order upon examination of the quality of the casts. We recommend technicians casting your feet to be Certified Pedorthist, Orthotist, Prosthetist or Doctor of Podiatry Medicine (D.P.M.).
Custom shoes made to the pattern or style of your choice are possible. Picture of the item must be sent to our factory. Trained staff will personally call to discuss the ability and cost to duplicate your chosen pattern of work shoe or boot. Custom pattern shoes are not returnable.
Any custom shoe rather for unusual size, foot abnormality or special pattern may be returned to the factory for size adjustment. Most adjustments will be no charge except for return shipping. Any charges will be after they are approved by the purchaser prior to the additional work.
Any custom shoe or boot manufactured after fitting by our staff in our retail facility is guaranteed to fit. We accept size responsibility if we do the fitting not you!
Prices for custom shoes and boots vary widely. Price is based on additional manufacturing time. Examples may be different soles, colors, uppers or mismated sizes on normal inventory styles: + $30.00. Very extreme sizes but no foot abnormality + $20.00 - $100.00. Custom from positive foot cast $450.00 - $700.00 or higher if multiple outside medical abnormalities exist. Firm prices will always be quoted and approved in advance of manufacturing.
For clients requesting Orthotic (Brace) and or Prosthetic (Limb) service in combination with our custom shoe service please refer to our Orthotic and Prosthetic page. If needed we will work directly with your local Orthotist / Prosthetist.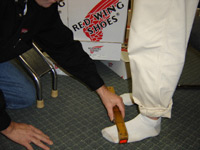 Our custom shoe service has the ability to manufacture three of the four shoe constructions. 1)Stitch Down - a lighter weight, broad base, more flexible construction than Goodyear Welt. This is our suggested construction, our retail inventory utilizes this construction. 2)Goodyear Welt - broad base, durable heavy duty construction. 3)Cement - generally built with narrow, trimmer (better looking) bottom, the lightest most flexible construction. Not highly recommended for durability or high stress work environments. 4)Molded Bottom Construction is not available. Safety Steel Toes are available in Cement & Welt construction. Fiberglass toes are available in most Stitch Down patterns. Fiberglass safety toes do not meet ANSI Z-41 standards. Their intent is to add considerable foot protection in cases where individuals are not required to meet ANSI Z-41 requirements, are possibly exempt from ANSI -Z41 requirements due to medical conditions, severe foot abnormalities are present that make it impossible to fit with steel toe caps or for personal reasons individuals wish additional protection without the temperature or fit restrictions of prefabricated metal protective toes. Mark Grundman is a full voting member of the National Safety Council ANSI-Z41 Committee and uniquely qualified to direct your safety requirements.
Our custom shoes and boots look like normal production footwear. They do not have the look or design of Molded or Space constructed custom shoes. All custom shoes have full length removable foot orthoses (arch supports) that may be adjusted by your local professional.
For specific discussion of your custom needs please call the factory direct at 1-812-882-4770. Hours 8:00 A.M. - 5:00 P.M. EST M-F. If our staff is handling other clients we will return your call. Home based night time return calls are returnable upon request. We have the ability to manufacture almost any special need you may have in our custom line. Give us a call.
---
* 906 North Seventh Street, Vincennes, IN 47591 * Telephone 1-800-726-4770 *